30+ Outfit Ideas With Gloves: How To Style Fashion Gloves
5 min read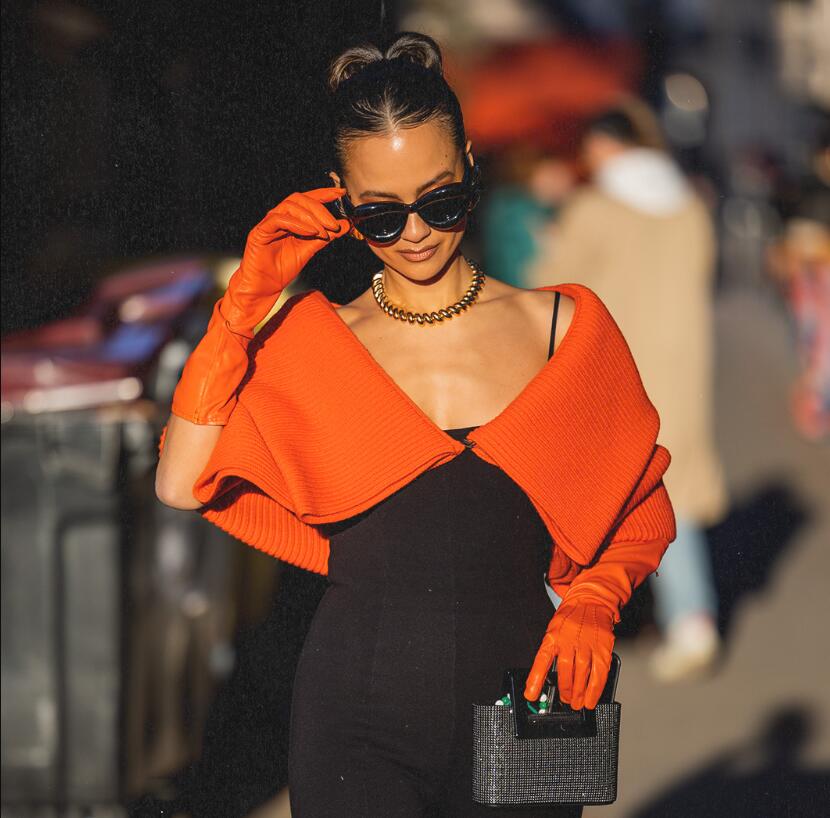 It is some part modest, some part elegant and a whole sum of mystery and sensuality. Gloves have been a long forgotten accessory by the modern world, only known to be used by people who wish to be overly modest. While it is true that gloves bring in an air of poise and modesty to the wearer, it is an added accessory to amp up your look, and when styled right, it can even look sexy and appealing both on your hands and from a distance. Here is how to style these hand-protectors with all your wardrobe pieces:
Meghan Markle recently paired her all-black outfit with classic black gloves for the Majesty's funeral, Queen Elizabeth II. Black, although a dress code in a place of mourning, is a rather safe color to go for in casual occasions. Style a basic stretchy, not slouchy glove with a basic black outfit, but remember to keep a hat ready to complete the all black look.
1. The Classic Elbow-Length Gloves
During the 1950s and 60s, elbow length gloves were a symbol of modesty, and were taken up for sophisticated experimentation by the likes of Givenchy and Sophie Gimbel. Such gloves were often styled with the revolutionary pantsuit for women, which often had a peplum silhouette for the blazer. Today, elbow length gloves are more-so used to depict these times, switching up the women's suit with a few modern pieces, say, a maxi dress or a skirt.
2. Leather Gloves
The edgiest aesthetic is by far given by the upbeat leather appeal when seen in gloves. Since leather is a more experimental fabric, when it is coupled with the demure and shy personality that gloves project, it creates a confident yet tainted aura that speaks mysteriously about your personality. 
If you enjoy experimenting with your clothes, try a hand at the leather gloves. We suggest going all out if you're bold with your accessorization, such as a striking scarlet pair of gloves with a basic pair of jeans and denim jacket, or a leopard print with a maxi well-fitting dress for that sultry ballgown look, but modernized. 
3. Sheer Gloves
The epitome of elegance and grace, sheer gloves look great when you want to feel luxurious. Similar to stockings, these are additions that go with almost any outfits (especially looking great with a satin dress).
What's even better is that you can create fingerless sheer gloves from worn out stockings as well! Just cut up the toe part of the stocking, and stitch a basic elastic band such that it rests on your elbow. Sheer gloves can also be made out of extra net fabric, and looks great when made out of neon or brighter colors, similar to the scarlet red or Valentino Pink. The ones from Gucci also look uber stylish that give a confident feminine appeal. 
4. Biker Gloves
For all the tomboys out there, here is how to steal your boyfriend's biker gloves to style for your own. Mainly made up of a type of leather, the main difference between regular leather gloves and biker gloves is the sturdiness and the extra buckles and fastenings biker gloves have. Meant to protect your hands while you're riding a heavy duty bike, biker gloves have the specific stereotypical masculine look. However, you can use this exact aura in your looks to add the extra edge to your outfit. Pair these with worn off jeans, boots and a basic leather jacket, and you will be good to go (and much more utilitarian in your outfit if you are actually going to ride a back, while looking stylish). 
5. Fur Gloves
Try out an air of tans during the snow! Style a versatile brown pair of gloves with a fur lining to add to the feminine appeal of your winter wardrobe. A sturdy material, corduroy is good for the winters, both to keep your hand warm and to make snowballs for some fun time with your friends.
6. Floral Lace Gloves
Truly meant for fashion, lace gloves are meant to shine out your feminine side. Often detailed with a frill on its edges, these look best with layered frocks or skirts. Etched flowers and leaves motifs also add another layer of dimension to these gloves. Try not to stain them as it can get tricky to wash it afterwards. That being said, wash them strictly by hand, and not put them in the machine. 
7. Knit Gloves
Knit gloves have been in grandma's fashion for as long as we can remember. A great memory attached to gloves every Christmas, we all have owned a knitted pair of gloves at some point in our lives. However, the new twist on the regular knit warmers is the slouchy design to it, which is quite effortless to achieve (just buy an oversized knitted glove, and you're good to style it with jeans, skirts or even a dress).
From where the appeal of 'slouchy' came in fashion is hard to explain, but it surely does have the comfort of a warm blanket, and doesn't require much upkeep when it comes to fitting and designs. 
Frequently Asked Questions
What are half hand gloves?
Also known as fingerless gloves, these are the kinds of gloves that are worn by digital artists while drawing with their wacoms, or are mostly shown as a part of ninja costumes. Fingerless gloves are, however, more utilitarian than you might think, as they are a great addition for outdoor sports such as hiking. 
When did people start wearing gloves?
Gloves were first mentioned in the time of Ancient Greeks. 'The Odyssey' also mentions a woman cladded in gloves while walking through a garden. However, it was in the 13th century that gloves came to be used as an accessory in fashion. Paris came to be the first place to bring this item into regular ready-to-wear clothing, and turned it a benchmark for luxury and opulence. Audiences were also later in awe of the bejeweled gloves of Queen Elizabeth I, and her styles turned this item of clothing into a symbol of aristocracy and royalty.
When did ladies gloves go out of fashion?
During the end of the 1960s, gloves weren't called out for being a fashionable piece. This decline gave gloves a resurgence with the Mod fashion, where women used to style gloves which were mainly made out of synthetic materials instead of the natural lace.