On Offer – Art Jewelry Forum
7 min read
November, Part 2
There are so many reasons to purchase art jewelry…
You got that hard-earned promotion—celebrate!
You're experiencing a once-in-a-lifetime occasion—honor it.
You wrapped up that major accomplishment—pay it tribute.
You want to mark the beginning of a new relationship or the end of one—commemorate it.
Perhaps it's an investment—do it!
It's the perfect piece to round out an aspect of your collection—pounce!
Or maybe it's as a treat for yourself—just because.
Art Jewelry Forum's international gallery supporters celebrate and exhibit art jewelry. Our monthly On Offer series allows this extensive network of international galleries to showcase extraordinary pieces personally selected to tempt and inspire you. Take a look. You're bound to find a fantastic piece you simply have to add to your collection! (Please contact the gallery directly for inquiries.)
Gallery: Zu design
Contact: Jane Bowden
Artist: Kath Inglis
Retail price: AUS$600
In 2019, Kath Inglis was awarded a Guildhouse Collections Project with the Adelaide Botanic Gardens to investigate marine algae. This project uncovered rich entanglements between values, living and non-living, recognizing positive natural relationships, creative hope, and the seeking of material justice. "Observing the dried specimens of marine algae through a microscope," says Inglis, "I frequently referenced their intriguing surfaces to materials that I was familiar with—cling wrap, lollipop sticks, cellophane, fishing line, mesh bags for oranges, etc. Many of these plastic items are often discarded after a single use. I decided to weave these new materials into my studio exploration."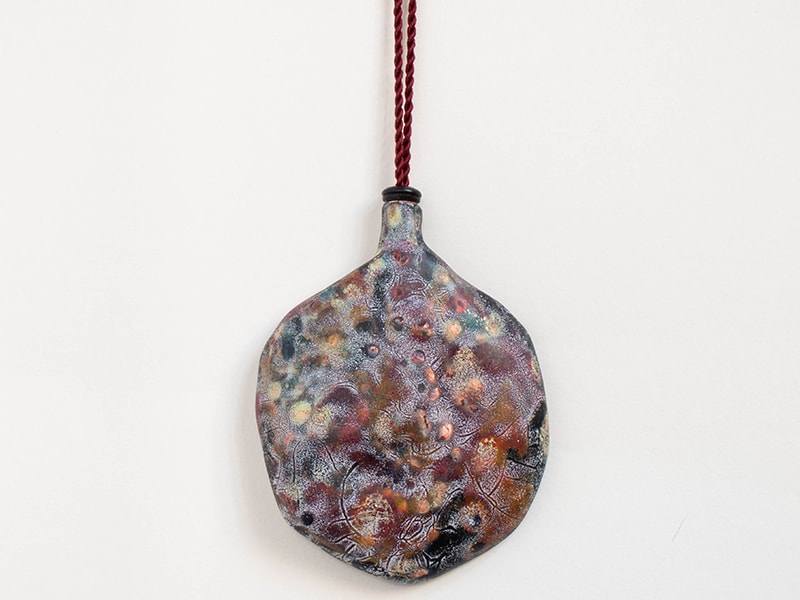 Gallery: Jewelers'werk Galerie
Contact: Ellen Reiben
Artist: Yumiko Matsunaga
Retail price: US$1,600
Yumiko Matsunaga's combined training in textiles, metal sculpture, and jewelry is evident in her delicate, hollow cushion-like vessels of enameled copper. With the addition of a simple cord or pin, she transforms the marbled works into treasured necklaces or brooches. Matsunaga's work explores the connection between color and emotions. "Emotions encompass the present but are often based on the various experiences of the past," she says. "I am reminded of this by the color application of the enamel technique, which is created by the superimposition of various layers. I want to create jewelry and objects that evoke memories and emotions in the viewer and the wearer through their sense of color."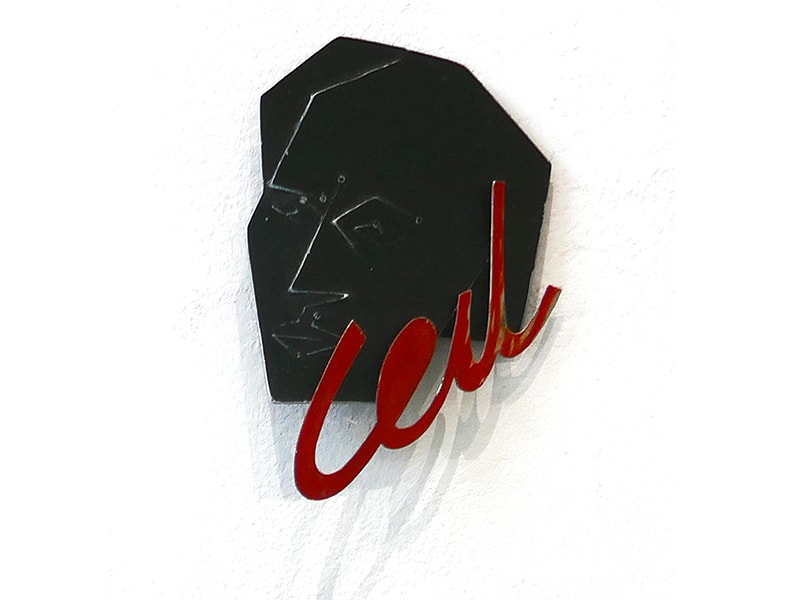 Gallery: Galerie Spektrum
Contact: Jürgen Eickhoff
Artist: Winfried Krüger
Retail price: €1,200
For anyone collecting jewelry seriously, this brooch—a historic work by Winfried Krüger, former teacher in Pforzheim—should necessarily be in their collection.
Gallery: Galerie Noel Guyomarc'h
Contact: Noel Guyomarc'h
Artist: Paul Derrez
Retail price: CAN$495
Paul Derrez produced an edition of Rainbow Chains as part of the 25th edition of Amsterdam Pride in 2021. Wearing this chain is a self-affirmation for some. For others, it shows solidarity and fights homophobia, which unfortunately is still all too present.
Gallery: Baltimore Jewelry Center
Contact: Shane Prada
Artist: Kelly Jean Conroy
Retail price: US$180
Kelly Jean Conroy uses jewelry to explore the notion of death as an idea of beauty and a tangible object to be worn on one's outer layer. Using childhood memories of nature as a material source, Conroy reflects on not understanding death as a child. In coming to know what grief feels and looks like, her perspective has changed and she believes "we all carry these moments of sorrow in our inner layers of our being."
Gallery: Platina Stockholm
Contact: Sofia Björkman
Artist: Jelizaveta Suska
Retail price: US$350
These earrings are made from amber, a common material to use for jewelry in Latvia and the Baltic area, where Jelizaveta Suska grew up. Suska says that the pieces she makes sometimes are about nostalgia, a moment in time, and a bigger landscape of imagination. She has been looking for a way of materializing these abstract matters and associations. The amber material can be seen as a world in itself, and she tries to find her own paths in it.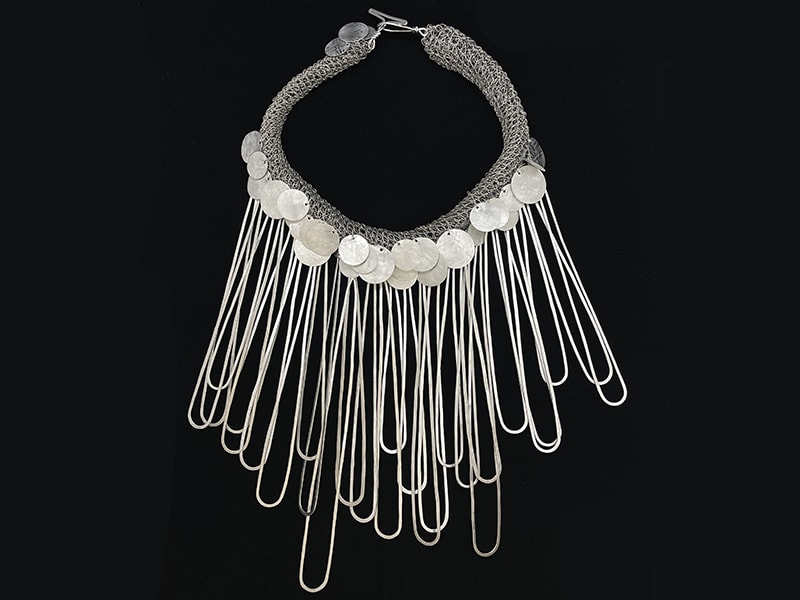 Gallery: Sculpture To Wear
Contact: Lisa M. Berman
Artist: Beatriz Mora-Hussar
Retail price: US$500
This necklace makes quite a statement for being priced at $500, and it employs a number of varied techniques in one piece. It is hand-crafted by using crocheted beading wire, aluminum, and recycled aluminum trays, and is very lightweight. The suspended tentacles move easily with the wearer. Emerging artist Beatriz Mora-Hussar originally hails from Venezuela. She was educated in the arts primarily at Fullerton (a student of celebrated metalsmith Christina Smith) and works in Southern California. Mora-Hussar has earned four scholarships for her jewelry-making craft.
Gallery: Four Gallery
Contact: Karin Roy Andersson
Artist: Helena Lehtinen
Retail price: €500
Helena Lehtinen chooses her materials based on the stories they carry and the memories they evoke. Then a process starts where the materials are worked on and changed. Motifs are cut out and put together into new compositions with different meanings. Thousands of beads are sewn onto an embroidery and transform the soft fabric into something new—something heavy, stiff, swarming, and vivid.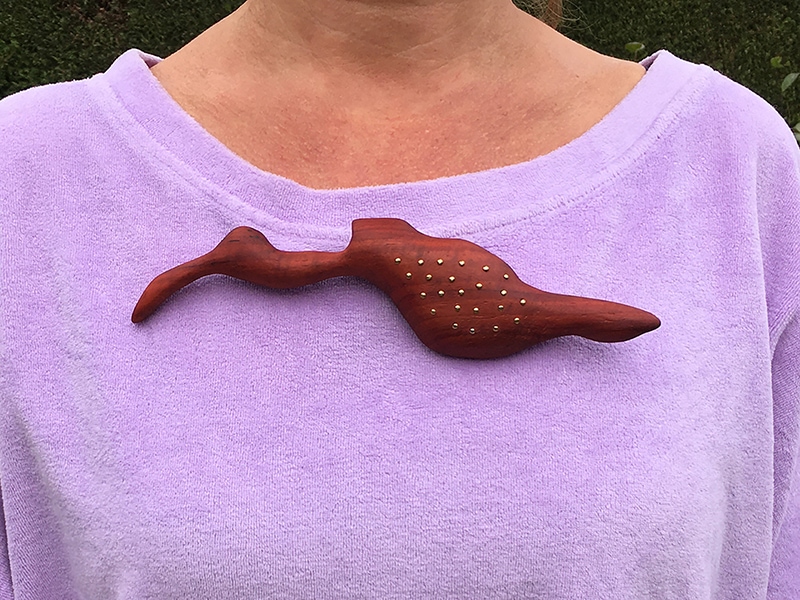 Gallery: Galerie Door
Contact: Doreen Timmers
Artist: Ildikó Dánfalvi
Retail price: €830
The pieces in Ildikó Dánfalvi's Birds of Love series are hand-carved from natural red woods, because the color red stands for love, passion, energy, fire, and happiness. Love knows no limits. It finds us at every age and everywhere in the world. "My birds embody the stages of love: flying free, flying in the stars, flying with one wing, retreating, feeling like a prisoner, shining, feeling safe, and the state of being reborn as a phoenix from dust." Enough reasons to start wearing one of these one-of-a-kind brooches!
Gallery: Fingers Gallery
Contact: Lisa Higgins
Artist: Nadene Carr
Retail price: NZ$360–$420
"When I look at a scribble or some type of mark making, be it a splatter on a wall or a printed fabric, I always try and find something there," says Nadene Carr. "A face, a creature, or an alien. Something always pops out." Carr's work has a sense of humor. Her objects push boundaries of what is good or bad taste, and she's not afraid to play with visual elements of ugly and beauty. There appears to be no hierarchy between the two objectives as they sit alongside and within each other. Bold, bright, and daring—Carr uses color and materials to allow the work to become ever so slightly awkward and full of fun.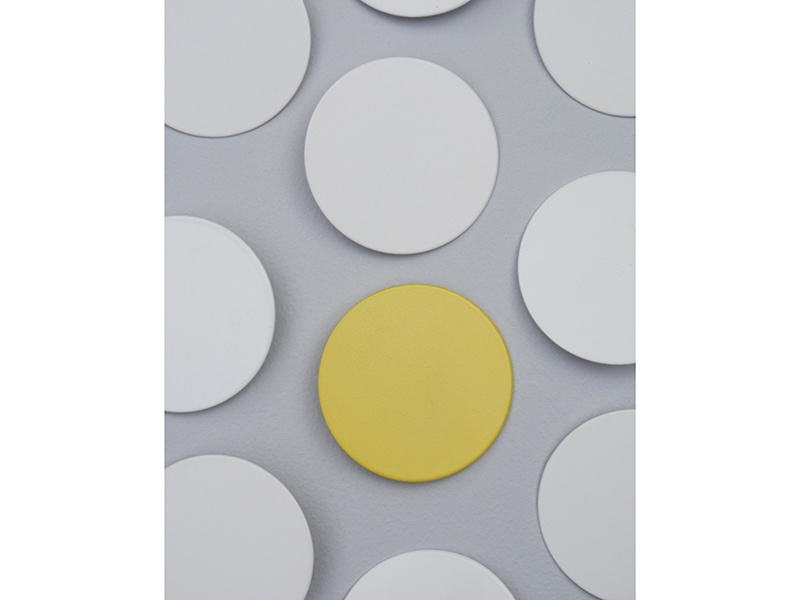 Gallery: Galeria Reverso
Contact: Paula Crespo
Artist: Timothy Information Limited
Retail price: €113
This piece is part of Galeria Reverso's Pop It or Pin It exhibition. Each member of the world-famous Extranalities collective started this journey with bubble wrap as their muse and inspiration for new work. This is Bubbles, by Timothy Information Limited. As he would say, "They look like bubbles, don't they?"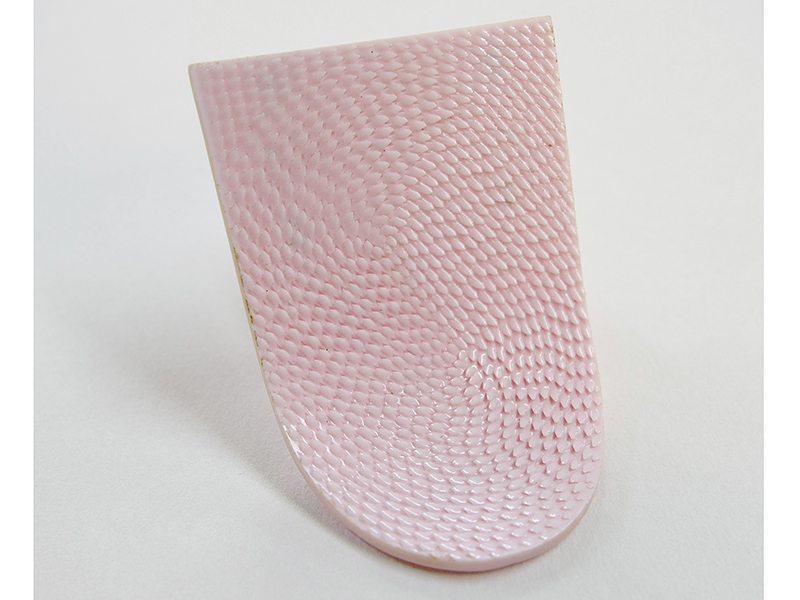 Gallery: Galeria Tereza Seabra
Contact: Tereza Seabra
Artist: Benedikt Fisher
Retail price: €240.90, plus shipping
"Some say making is thinking with your hands," says Benedikt Fisher. "I don't know. I could never say that I understand everything I do, but I definitely think that there is something other than pure rational understanding. Maybe it's something in between. I personally need both, to keep my head and my hands busy."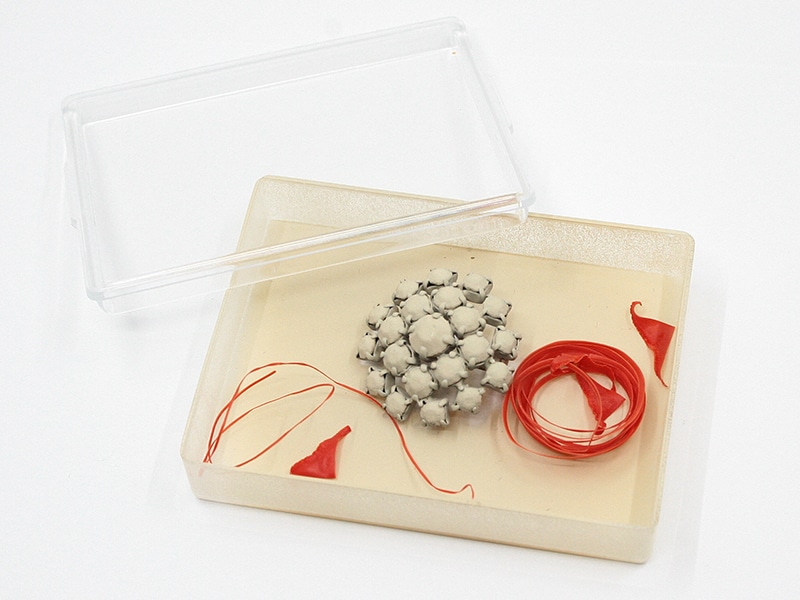 Gallery: Galerie Viceversa
Contact: ilona Schwippel
Artist: Volker Atrops
Retail price: 220 CHF, plus shipping
"The wish to wear jewelry is an innocent and pure act," says the German artist Volker Atrops, "sensual but also a very ancient desire. As hair becomes ornament, the ornament is linked to life, to our body and to the refusal of death. One of the qualities of jewelry is to be so close to the body that it participates in its existence. When art is in the representation, the jewel is inserted in the lived, it melts in the present time. With this accessory we graft a detail to the life in what it has of [the] mortal, we enrich it. And we unite it with the human. By making pieces that will be worn, I add something to your person." Atrops selects pieces of costume jewelry and puts them in a very specific context. His intervention on the piece itself is an assumed artistic act that changes the condition of the piece.